The Quinncia Story
As a graduate student who had strategically chosen a rigorous education path, Quinncia CEO Himal Ahuja found himself with impressive degrees and no job. His search was painful and he could not figure out why he wasn't getting interviews.
It wasn't until he was in his career and hiring college graduates that Himal realized what had happened to him. He didn't have a comprehensive resume that explained who he was. He did not learn nor practice the art of interviewing. He realized that colleges and universities were developing expert career and professional development teams, but these departments needed more.
Himal devised a way to harness AI and create an online platform that not only supports students, but optimizes career counselor workflows.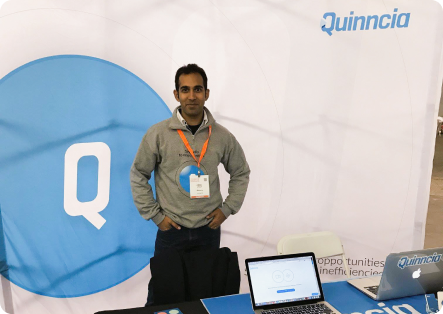 Since 2015 our dedicated team is committed to building doors for students and employers with Quinncia, the platform where ability meets opportunity. We believe that education and employment readiness go hand-in-hand.
We work to create the top product in our industry. In 2019 Quinncia was a part of Lighthouse Labs. In 2022, Quinncia was included in the top 50 edtech - emerging companies for higher education. Want to join us? You can join us as:
A university partner
An employer partner
Someone with ideas & opinions who wants to work with us
We would love to hear from you!